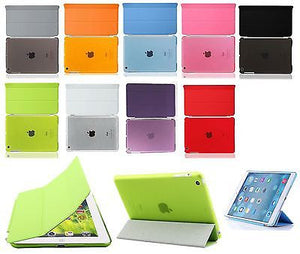 Smart cover features:
1.100% new and high quality.
2.Custom designed to fit for Apple Air
3.Stylish, slim, elegant and professional.
4.Magnetically aligns with the device: Wake on open. Sleep on close. Open the smart cover, and iPad
Mini magically wakes up. Close it and for iPad Air automatically goes to sleep.
5.Protects without affecting any function of the device.
7.Can be used as a keyboard stand, and it's also a face time and movie stand.
8.Easy to use, light weight, elegant construction and stitching.
9.Enhances the look for iPad Mini in a sleek way.
10- For MF054LL/A

Back case features:
1.100% Brand new, excellent quality, A+ degree Poly carbonate material, Slim, clear, super flexible.
2.It protects your The New for iPad Air back and frame from Scratches, Shocks, Dusts And Abrasion.
3.Compact, Stylish, keeps your beloved The New for iPad Mini original look!
4.Flexible, anti-shock , durable.
5.Perfect Fit for Apple Air Smart Cover and don't have to remove the case.
6.Perfectly match with your The New iPad Air's shape, makes your for iPad Air personalized and absorbing.
7.Unique design allows easy access to all buttons, controls and ports without having to remove the skin, The LCD screen is recessed within the case for protection and exposed for touchscreen access.
8. Color: Solid and Clear color, please choose the one you like.